BOOKS
Centerville: A Mid-American Saga: History Press 2012   click here to buy on Amazon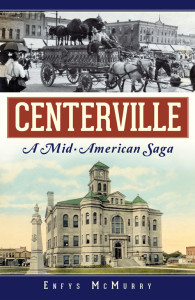 What people are saying about Centerville: A Mid-American Saga

 

:
"The book is a page turner" – Dévon L.
"It's a walk through history" – Peggy M.
"Worthy of a Pulitzer Prize…A must read for Midwestern history buffs." – S.V.
"Magnificent" – Kris K.
"History buffs will love it" – Wm. V.
"Fantastic history" – Rebecca M.
"Superb… what a generous, readable gift to those of us from the Heartland" – C.C.
"This is an exceptional book of local history" – Philip Z.
"An amazing history… Any history buff will greatly enjoy this book!" – Gary C.
"Absolutely the most thorough historic saga I've ever read!" – Dewey M.
"Remarkable, fascinating, significant to… this melting pot… where our "immigration"  reform policy can learn lessons from history" – Joanne R.
"I read this after finishing David McCullough's The Path Between the Seas. This book is every bit as good if not better" – Roger G.
"This volume is such an amazing description of persons and events, and loaded with so much factual information… it is hard to imagine that any book has better chronicled the victories, struggles, and relationships, and indeed the entire life, of a community both within its own microcosm and within the world at large… The reader cannot help but come away with awe for the scope of the panorama depicted by the author or by the vividness, color, and detail with which she has described people and events that are enshrined in the history of Centerville and its environs." – John C.
Hearst's Other Castle: Seren Press 1999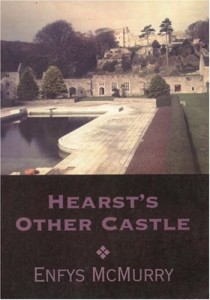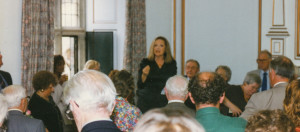 ARTICLES
"St. David's Day in Wales": Ninnau March 1st, 1979, Windfall 1977
"Air Raid Sirens Through the Night": Christian Science Monitor May 17th, 1989
"Childhood Memories": Ad-Express Iowegian March 2nd, 1990
"A Parable for the 80′s": Ad-Express Iowegian December 29th, 1989
"'Got any gum, chum?' The Yanks and England during World War II" Ad-Express Iowegian November 3rd, 1989
"'Pursuit of bliss' will carry us to Tranquility Base… and beyond" Ad-Express Iowegian June 2nd, 1989
"Take a tour of 39 Landmarks" Ad-Express Iowegian June 29th, 1990
"Why Welsh native is new U.S. Citizen: A Letter to my parents." Editorial Page The Des Moines Register June 22nd, 1988
"When Hollywood Ruled Over A Welsh Castle." Western Mail (the National Newspaper of Wales): Weekend Section August 7th, 1993.
"Castles in Foreign Air" San Francisco Examiner Magazine Section, October 24th, 1999
"Hearst's Other Castle" (review by Cari Beauchamp) Architectural Digest October 1999