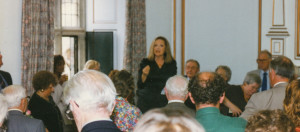 Extensive number (I've lost count) given to a wide range of organizations.
International Venues
69th Annual National Gymanfa Ganu: 2000 Ottawa, Canada
1999 Atlantic College, St. Donat's, Wales
Rotary: Vale of Glamorgan, Cowbridge, Wales 1999
In 1995, Toastmasters: Area, District, and Iowa First Place finishes.
Runner up at State Level
Speeches given to the following community and general organizations:
Rotaries - Kiwanis – Women's Groups - Churches - Hospital Auxiliaries
Arts Festivals - Libraries - Home Care - Care Centers - Girl Scouts
PEO – BPW - Holiday Readings - Eulogies
Education Speeches:
Phi Delta Kappa - Teachers - Commencements & Graduation events
Nursing/Secretarial ceremonies - Academic Awards
Elementary/High School Classes - Writing Laboratories
National Honor Societies
History Speeches:
Historical Societies
Workshops for History Writers
Daughters of Union Veterans
Iowa Welsh Society
Daughters of the American Revolution
Topics include:
D-Day 1944
The U.S. Constitution
Thomas Jefferson
Florence Nightingale
Tea
St. Donats and William Randolph Hearst.
Specifically affecting Southern Iowa:
World War 2 – The War
World War 2 – the Home front
Race Relations
Murder, Mafia and KKK Mayhem.
Comments:
"She is inspirational, eloquent, and fabulous." – Jeremy M.
"Enfys is a gifted and spell-binding speaker" – Adamae L.
"She relays interest and excitement to her audience this is so awe inspiring." – Janet J.
"The first time for a standing ovation – a superb program to the D.A.R." – Evelyn B.
"[her] passion and enthusiasm 'rubs off' on those around her" – Jean L.